Illinois Area Service Committees
The Illinois Area Service committee business meetings are attended by members, District or Service Representatives from the fellowship, each CA District or Group in the Area. The committee and Area meetings are at Lutheran General Hospital, 1775 Dempster Rd, Park Ridge. It is OPEN to all interested persons. NO SMOKING.
12noon – Convention Committee – Room 1064 / Call Linda W. for more info: 847 373-1745
1:00 pm – Literature Committee
2:00 pm – Finance Committee – Sasser Room
3:00 pm – Hospital and Institutions Committee
3:00 pm – Public Information Committee
3:00 pm – Special Events Committee
3:00 pm – Unity Committee
3:00 pm – Delegates to World Service
4:00 pm – Illinois Area Service Committee
***All Area Committee meetings are subject to change in the event of a holiday, or CA event/convention/program.
Illinois Area of CA NEEDS YOU!
Seeking two Alt Delegates to C.A World Service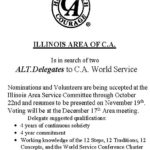 <—Flyer download
Looking to get involved… want to give back what's been so freely given to you… we have a place for you!
Positions available at your IACA.
Don't want to be the BOSS… come and join a committee!
SERVICE helps your personal program grow:
There are MANY opportunities to be of service to the local fellowship.
For more information please call Maurice S. for additional information: 630-240-9113, or [email protected] !